Join Us
Small and big pleasure
The most important thing is the conviviality moment either you are at the counter bar, on the terrace or on our special solid wood host table .
Here we like to find you big hearted winegrowers , the gourmet dishes are made with local and Quality product .
Here the Time has stopped, we served you gourmet dishes to midnight thirty (00H30).
Coupe de Champagne Moutardier
Amour de Fruit " A.O.P Rhône 2017
Syrah du Domaine du Chêne Vin de France 2012
Château La Caderie A.O.C Bordeaux supérieur 2014
Pinot noir "Les Enfants Terribles V.D.P d'OC 2015
Domaine des Aspras "Les 3 Frères A.O.C Provence 2014
Les Pilliers de Maison Blanche A.O.C Montagne St Emilion 2011
Domaine de Bellevue A.O.C Touraine 2012
Domaine Maldant " Chardonnay " A.O.P. Bourgogne 2014
La Mule Blanche Paul Jaboulet A.O.C. Crozes-Hermitage 2012
St Roman d'Esclans A.O.P Provence 2014
Petit Chablis, Domaine Garnier et fils 2014
Château Rosan "Evidence" A.O.P. Provence 2018
Château St Lucie MIP A.O.C. Provence 2018
Domaine des Diables "Le Petit Diable" A.O.C Provence 2017
Domaine Uby I.G.P. Côtes de Gascogne 2016
Moscato D'Asti La Casa in Collina
Vin gourmand "Association mets et vins"
Domaine La Gioiosca Prosecco brut
Domaine de Bernardins, Muscat de Beaume de Venise
Plate or raw vegetables with is sauce homemade
Salad or Toasted bread of the day
Truffle and cream gnocchi with coppa to share
Our selection of ham & cheese duo
Warm toasted Foccacia cheese 
Our delicatessen selection
BàO plate to share (2 pers)
Fish of the day main course
The unmissable Hot Mont d'or cheese cooked with white wine
Truffle and cream gnocchi with coppa
Meat of the day main course
Takeaway
Don't hesitate to look and order by phone or email the takeaway wine list .
And come directly to pickup your order between 5pm to 11pm from monday to saturday.

WINE BAR SIDE
We are taking care of your food and wine pairing. All our wines are chosen to make you feel the best pleasure ratio with the good price , you can find wines from small producers with big heart to best known vintage from all the best part of the world.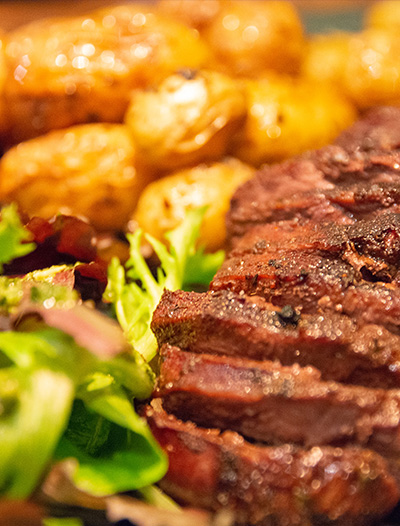 Tapas Bar Side
These tapas are not always spanish tapas, these are small individual or big sharing home made dishes , you can share it with friends, family or colleagues in a musical atmosphere . The most important for us is the quality of the product, they often change with our inspiration. These plates are perfect for birthday, cocktail diner, business aperitif, bachelorette party's .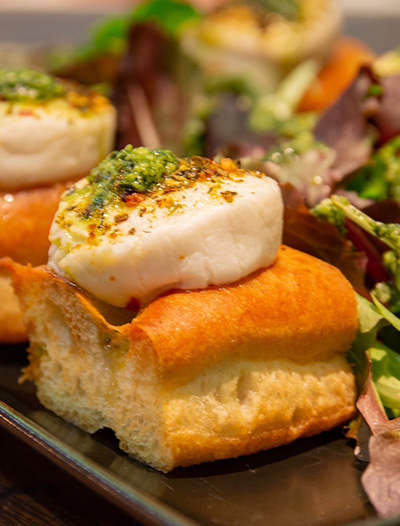 Restaurant Side
All our dishes are made with fresh and local products and transform on sites by our kitchen chief SAFFRÉ Laurent. Our dessert, our sauces are homemade. The open kitchen imposes us already drastic hygiene rules for your greatest pleasure.